Dear ReachPoint Family,
We have been reading all the Thank You cards and emails that all of you have been sending in and we are touched by your kind words and appreciation. We want to take this time to Thank YOU, for giving us the opportunity to be part of your loved one's lives and that this inspires us to be the best in what we do. Thanks again, from ReachPoint.
---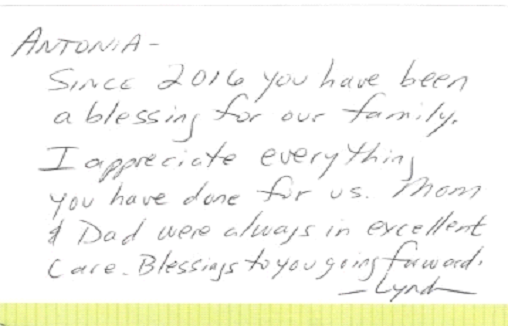 ---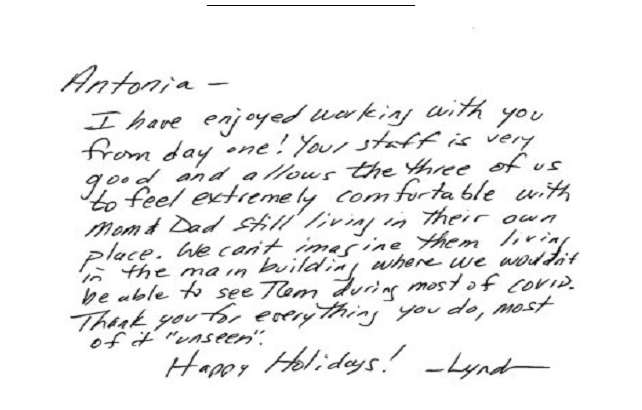 ---
Hi ReachPoint partners!
Michelle and I want to thank you all for the past month and a half of care you've provided for Mom. We haven't had the privilege of meeting all of the caregivers, but if they're anything like the awesome ones we have met, you truly have a band of angels. We are all blessed, especially Mom…who is becoming quite spoiled! Kayla had mentioned Mom's frequent complaint about her cold hands so I took her suggestion for a handwarmer and ordered something that looks like it will help. Can't wait to see! I'll try ii out on Wednesday and if Mom likes it, I'll leave it with instructions!
One last thing, at Mom's recent dentist appointment, Michelle learned that Mom is developing cavities very easily. We would greatly appreciate your team's help combatting this with frequent teeth brushing, at least once per shift and flossing before bed. Mom does have an upper "partial" (denture) that she can remove for cleaning, if asked. The partial is well made but much care must be taken that it doesn't break. (It can be removed, brushed and replaced after other teeth are brushed.) Thank you for supporting her health with good oral care. Please let me know if you or your team have any questions.
Gratefully,
Jeannie
---
Thank you very much. You're great. So happy with your service. You are making
the is so much easier. Was Vic able to stay till 8am?
Thanks.
Christie Bloomberg
If you or an aging loved-one is considering Home Care San Jose, CA, please contact the caring staff at Reachpoint Home Care & Resources Inc. today. (408) 692-4110